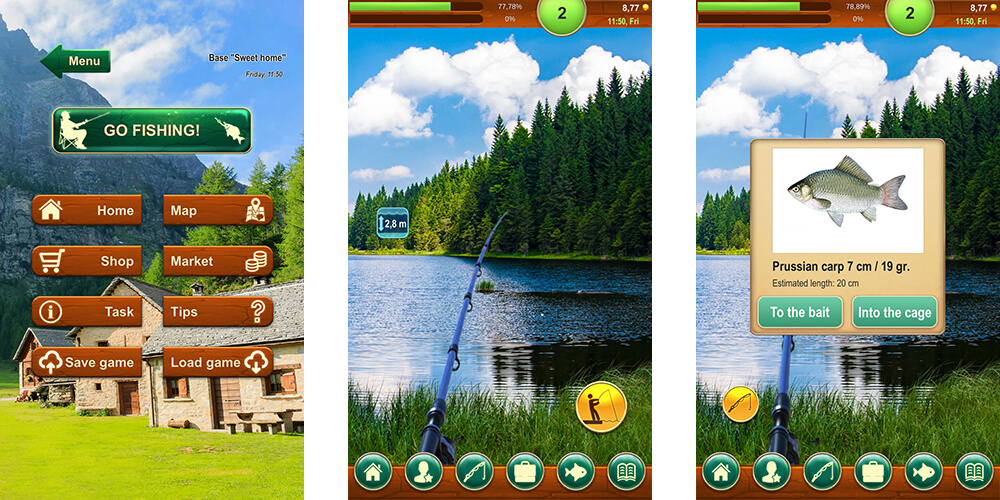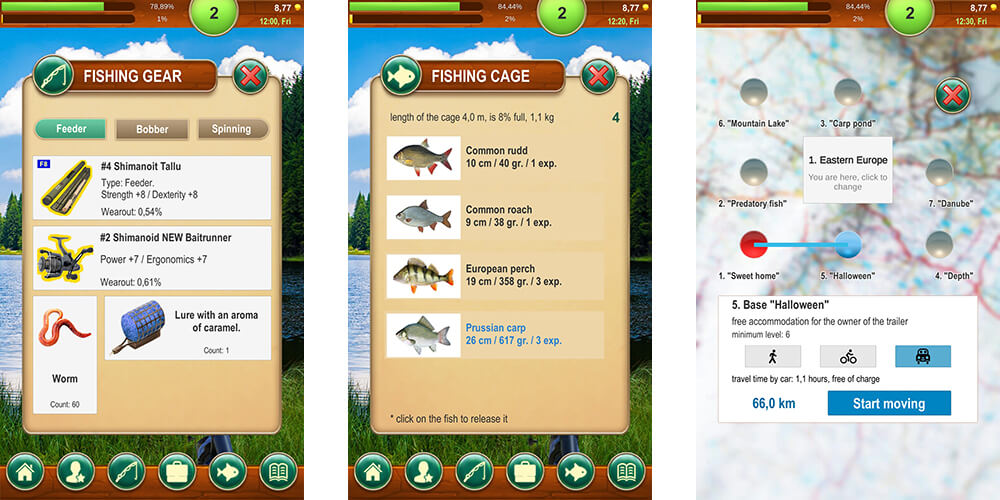 This is a realistic fishing game:
fishing feeder, float fishing rod, spinning;
change of day and night, days of the week;
different types of fishing rods, reels, baits;
various fishing bases with their own set of fish;
the opportunity to buy equipment, a car or even a house!
a lot of fishing game quests with awards;
casual hoards in some species of fish;
the catch depends on the type of bait, time of day, on the point and depth of casting;
the price of fish depends on the base and day of the week;
the ability to play without the Internet;
simple and intuitive interface.
Advice:
fishing will be more effective if you try to catch in different parts of the reservoir and at different casting distances;
to change the place of fishing on the reservoir, remove the fishing rod (double click on the screen) and move the screen to the side with your finger;
while fishing for the fish, make sure that the arrow does not linger long in the last red sector, otherwise it may descend;
more comfortable fishing chair will allow you to get less tired from the process of fishing and rarely rest in the house;
a longer fishing cage will allow you less often to go to the market to sell fish;
a more powerful fishing reel will make it easier to pull out large fish and quickly reel off empty gear;
you can catch frogs (they become bait), you can make live bait from fish up to 10 cm long;
with viewing ads, you can sell fish at 30% more expensive;
for viewing ads in the store, you can get 5 pieces of random fishing bait;
there is a kitchen in the house in which you can cook "Accuracy", "Power", "Cheerfulness", "Experience" and "Luck" soups;
your repair kit, soups and vouchers are in the Inventory, in the "Other" section;
in a premium car, rest from fishing is 3 times faster;
buy air conditioning, then the rest from fishing in the house will be 2 times faster;
you can leave the paid fishing base and come for free while the ticket is valid;
air tickets to the "Carpitcher" and "Depth" bases are suitable for any level of fisherman;
the time of the soup or trip does not stop offline, continues to spend.
Frequently asked Questions:
You can save the game save file to your email, computer or mobile phone save folder. The file is located here:
(phone internal storage)/Android/data/info.secondreality.fishingBaron/files/config.ini
Delete the current file on the device, which is located here:
(phone internal storage)/Android/data/info.secondreality.fishingBaron/files/config.ini
Copy the previously saved config.ini file to this place, here:
(phone internal storage)/Android/data/info.secondreality.fishingBaron/files/
Just delete the save file on your device, which is located here:
(phone internal storage)/Android/data/info.secondreality.fishingBaron/files/config.ini
New location, fish (and possibly bait) are planned to be added about 3-4 times a year. Between these updates, there may be others that fix bugs, improve gameplay and design.
Caught... try going to the pond, scroll the location all the way to the left or right and try to catch it there. In the center, in the left and right parts of the reservoir, the fish peck in different ways.
Most likely, some kind of cleaner program deleted the temporary files of the game, it must be forbidden to do this. Write to me, tell me your ID (written when entering the game), what level of the player you had and how many coins in the game can compensate you for all other losses. Purchases purchased with real money will be restored automatically.
Game Versions:
added support for the latest versions of Android;
fixed a bug in the task to catch 100 fish;
slightly simplified pulling fish for beginners (less than level 10)
fixed the border of the upper bank of the Danube;
fixed bugs related to spinning fishing;
there is no more pause when casting;
soup indicators are again shown on all screens;
fixed too fast catching of fish (at the request of the players), write to me by email if you do not agree with this
fixed the balance of strength of fishing rods and reels (see their strength in the description, up to +7 strength), strength soup adds +2;
fixed a bug with playing fish for too long on some devices;
fixed UI for ultra-wide screens, it was hard to play;
fixed a lot of minor bugs, added a lot of small improvements at the request of the players;
improved quality of photographs of water bodies;
on location #6 you can cast far again;
added background sound for night fishing;
rangefinder, message counter, fishing scale and spinning speed no longer interfere with each other;
color dot (enabled in settings) has a more visible pink color;
cast sound sounds later if casting farther;
the same amount of coins is added when moving to a new level.
added game rates for a monthly subscription: 2-5-10 times faster progress (money, experience, luck);
3-5 times increased price for some large fish;
the game is now shown without black fields, in full screen, on any screen, both long and wide;
added translation into Turkish, Indonesian, Korean, Japanese;
fixed some critical bugs.
the game is now translated into the following languages: English, German, Spanish, French, Italian, Polish, Portuguese, Russian, Slovak, Ukrainian and Chinese;
flights to North America and back now cost 300 coins instead of 500 (at the request of the players);
Gulf of Mexico is available from level 35 instead of 40 (at the request of the players)
all previous fishing locations are now combined into the "Eastern Europe" area;
a new area "North America" has been added with 2 fishing locations: "Gulf of Mexico" and "Catalina Island";
33 new fish species have been added;
numerous errors have been fixed
now you can save game progress to your Google account;
correction of errors associated with the display of advertising and freezes (3 stage of 3);
other minor amendments
correction of errors associated with the display of advertising and freezes (2 stage of 3);
travel time is spent only when you have a fishing rod in your hands;
other minor amendments
correction of errors associated with the display of advertising and freezes (1 stage of 3);
added some new graphics
pearls can be caught with each fish (see their chance in the tips);
pearls will help improve skills (increase fishing basket, etc.);
in the player's profile new tabs "Prizes" and "Skills";
new features added to the settings when entering the game;
it is possible to switch the metric measurement system in the settings;
you can cancel started task on the base;
for achievements (prizes) now you get coins;
bonuses for fish released
added 2 new fishing bases: "Mountain Lake" and "Danube";
added 17 new fish;
daily progressive bonus for activity;
info about the depth of fishing for fish in the tips on the base;
info about the properties of premium items in the tips on the base;
fixed some bugs;
continued implementation of new design
fixed impossible quests for small fish;
now only interesting fish are selected for the quest on distant reservoirs;
owners of premium cars now do not pay for accommodation;
fixed bug with casting spinning
bobber rod and spinning implemented (gives more experience for big fish);
added button "remove fishing rod";
wear of gear depends on the level of the player;
you can pull the bait after bait casting;
updated balance of the cost of fish and experience for them (see tips);
there are more tasks at the base, tasks have become more profitable;
reduced fatigue effect by 30%;
2 times increased speed of movement between bases;
added new fish / bait / fishing rods;
the beginning of a new design
fishing tips (new button on base);
vibro when biting (switches when entering the game);
some premium items: chair, cage, depth gauge, repair kit can now be purchased for 200 ad views each, but note that after reinstalling the game, they are not restored, unlike those purchased in PlayMarket;
after the end of the voucher nobody expels you from the fishing base, you leave yourself;
many other small improvements
the game fits completely into the screen (for all devices);
now the fishing cast is exactly at the point you want (for all devices);
the inventory is divided into fishing rods and the rest;
added feed to the feeder rod;
reduced price for bike and car;
reduced game size;
bug fixes, performance improvements
in the premium car rest lasts 3 times faster;
in the house you can buy air conditioning (rest 2 times faster);
added soup "Accuracy" - slows down the wear of gear 2 times;
the more expensive the fishing rod, the faster the rollback load scale;
you can leave the paid base and come for free while the ticket is valid;
air tickets to the base "Carpitcher" and "Depth" (for any level of fisherman)
the house now has a kitchen in which you can cook soups ("Power", "Cheerfulness", "Experience" and "Luck");
cooked (or bought in the store) soups can be found in the new section of the Inventory - the "Other" tab (repair kits are also there);
corrected errors associated with the calculation of the weight and cost of fish, quests and cage capacity;
improved performance and interface, again fixed a bug with missing line
corrected errors associated with the disappearance of the fishing line and casts;
fishing rods help to pull out fish more, the premium fishing pole has become cheaper;
boilies became more catchable, a new bait was added;
added the ability to sell fish at 30% more expensive (with viewing ads)
indicates the weight of the fish and the total weight of the catch in the cage;
it is possible to make live bait from fish up to 10 cm long;
you can catch frogs; added new bait; pike perch got better;
fixed bug with fishing cast into two points only on some mobile devices;
quest window rendered in the main icons, instead of messages;
shallow fish and fines now do not peck at great depths;
added Slovak language
added new fishing base "Halloween" with new fish (for players of 6+ level);
new fish will be caught on a new base only after completing the quest: save the lake from voracious fish;
award for the new quest - a strong fishing reel "Daiwan Black Widow";
added new bait;
added the ability to get 5 pieces of random bait for viewing promotional videos, 1 time per hour, in the store;
instead of a casting point now - a real fishing line, we are getting closer to real fishing :)

If you can suggest how you can improve the gameplay or translation - please let me know. Thank you!
Privacy Policy of Fishing Baron game